Get Your Message Across
Attached translates online and offline copy for a wide range of specializations in many different languages and platforms. Whether you're an individual, a small company or an industry giant, effectively communicating with your audience in their language is essential for overcoming barriers and fulfilling your objectives. As the go-to translation partner for many businesses all over the world, we're happy to help you convey your message.
Ensuring quality and industry-specific expertise is of the utmost importance. With over 20 years of experience, Attached has a proven track record of delivering quality translations. On top of meeting all the requirements set by our ISO 17100:2015 certification, we work exclusively with translators who are native speakers of the target language and locale. Most of them live and work in the country of their native tongue, making your documents read as if they were written from scratch.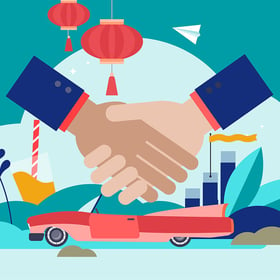 Our translation solutions are specifically designed for you with support throughout the entire process. To meet both your communication and budgetary needs, we offer different service packages and advise you on which one suits you best.



Attached offers translations in a variety of specializations, such as marketing, HR, loyalty programs, legal, tech, finance, real estate to name a few.

We're proud to help our clients achieve success with clear and inclusive communications.
Advantages
Thanks to the extra care we take when rendering materials in another language, the benefits of professional translation are clear – for you and your audiences.
Bridge cultures
As collaboration transcends borders more than ever, translation builds stronger relationships. This is not only a benefit but also a necessity in today's society. We'll make the process as smooth as possible.
Be understood
No matter the complexity, we understand your message, allowing your readers to as well. Attached carefully selects experienced translators well versed in your industry and subject matter.
Improve accessibility
Are you setting up international partnerships? Opening a new office or recruiting abroad? Or simply looking to reflect the diverse audience you serve? Offering solid translated versions of your content helps everyone feel connected and valued.
Communicate ideas
Make your words count without having to worry about potential misinterpretation. Translation offers a fresh perspective to new markets, putting you ahead of your competitors and keeping your customers engaged.
We can take care of your translation needs, regardless of the volume. On top of offering our services in various language combinations, Attached can assemble a dedicated team of linguists to accommodate your desired turnaround time.
Better Together
Attached has been at the forefront of the language industry by developing smart, customer-oriented solutions that have proven their worth in practice.
Attached functions as your strategic localization partner and supports you in your global marketing and communication initiatives. This requires transparent communication and knowledge exchange. Our focus is on shared targets, realistic agreements, clear communication, and collective expertise.


To offer you continuous worldwide service, we:
Build a strategic partnership, starting with a content audit, to unify your brand and content across all markets and channels.

Have a global network of native language experts consisting of copywriters, translators, editors and localization engineers.

Prioritize quality through custom workflows, translation memories, official glossaries and dedicated language teams.
Localization

offers an effective, consistent, and seamless experience throughout the customer journey and across your global offices.