Fine-tune Your Communications
When it comes to writing, the editing process is just as important as drafting your content. Editing retains your tone of voice and perfects the original style, so your readers get the best version of your message.
We carefully examine your text not only for spelling, grammar and punctuation, but also the clarity and logic of your ideas and the suitability of the chosen style for your target audience. Our editors ensure that your words are delivered as powerfully as possible. Detailed line-by-line and word-by-word checks remove any inconsistencies, awkward phrasing, or any other errors that may adversely affect your brand.
Our editing services are available in many languages and specialist subjects. We work closely with your team to learn your terminology, tone of voice and specific style preferences.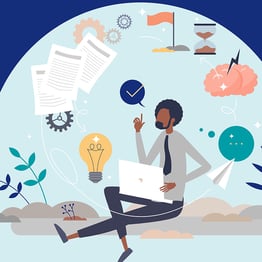 We also review translated documents against the source text to clearly and accurately reflect the original document to its new audience.
Already happy with how the text reads and looking for a quick review? Let Attached's proofreaders check that all-important final draft so you'll have every confidence that your text will be perfect.
Advantages
Language can make or break your copy. At Attached, our editors will make sure your points are expressed in a clear and concise way.
Some of the benefits include:
Transforming your text into well-structured ideas that are easy to follow

Delivering copy that reads fluently and achieves the desired outcomes

Receiving valuable feedback and a fresh perspective, thereby helping you become a better writer

Submitting your work with confidence, knowing that experienced and dedicated editors have refined your communications

Our native-speaking editors are well versed in your industry, the target culture and the local audience's reading preferences and will ensure your text has the most impact.

With our help, you can establish a connection with consumers and partners, boost the potential of your products and services and achieve results.

Providing the utmost quality in all your communications shows clients you care about offering them the very best.

You can count on us to deliver a perfected message for your readers.
Better Together
Attached has been at the forefront of the language industry by developing smart, customer-oriented solutions that have proven their worth in practice.
Attached functions as your strategic localization partner and supports you in your global marketing and communication initiatives. This requires transparent communication and knowledge exchange. Our focus is on shared targets, realistic agreements, clear communication, and collective expertise.


To offer you continuous worldwide service, we:
Build a strategic partnership, starting with a content audit, to unify your brand and content across all markets and channels.

Have a global network of native language experts consisting of copywriters, translators, editors and localization engineers.

Prioritize quality through custom workflows, translation memories, official glossaries and dedicated language teams.
Localization

offers an effective, consistent, and seamless experience throughout the customer journey and across your global offices.